BuddyGays Review - the Huge Online Sausage Party, or a Scam?
BuddyGays is advertised as a dating site for gays who want to have fun or settle down. This review will show you if any of their claims is true. Keep reading to discover you can have fun and meet serious men on the site.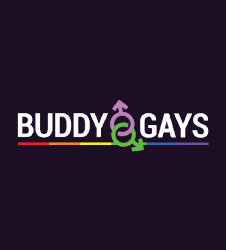 Visit site
5 Arguments to Use BuddyGays
free members can have fun, too, with 5 free messages per day and other features
good for flirting online, casual dating, and serious relationships
there are no women on the site, only men looking for men
the interface is modern, simple, and easy to use
65% of members are under 35
Membership Base
As expected from a gay dating site, all the members are men. There are more than 300,000 members in the USA alone. 100,000 weekly active users sign that the community is active, but you'd realize that on your minutes after joining.
Age is just a number, but numbers work in favor of younger gays on BuddyGays. Just 5% of members are older than 55. That's nothing compared to 35% of members who are between 25 and 34 years old. Gays from all tribes are equally represented on the site so that everybody can find matches.
How to Register and Create a Profile?
You won't grow old while registering to the site. It takes 2 minutes to sign up. Because all the members are men looking for men that will be marked as your gender and sexual orientation, you can't change that. Under "a man looking for men", you'll see tabs you have to fill in with your:
age
email - needed for verification
password
location - to get hookups and dates close to you
Uploading a profile photo isn't mandatory, but our advice is to do it because you'll look more serious about your intentions on this dating site. You'll also have to do a short personality test.
How to Use BuddyGays
Using BuddyGays is as easy as using any other gay dating site, even easier. Thanks to the "Cute or Not" game in the"Like Gallery", you can check out dozens of men every minute and like those you'd love to meet. Free members can send 5 free messages every day, so choose wisely if you don't want to spend $1 per day to become a premium user.
Browsing other men's profiles is also a way to kill time while daydreaming about things you'd do with those hunks, but chat is the site's best feature. There you can stop daydreaming and start date-hunting.
Matchmaking Process
Even free users can access the "Like Gallery" and play a game there. That's the most popular way to look for matches on BuddyGays. All the best free dating apps for relationships have something similar, but this site took matchmaking to a new level. You'll be amazed by most members presented to you in the "Like Gallery" because an advanced matchmaking algorithm precisely answers your needs.
If you ever get tired of that magic, you can always use a detailed manual search with many filters (you can search for men based on their "Tribe" and more).
BuddyGays App Review
BuddyGays doesn't have a mobile app yet because of the simple reason - they don't need any apps. Experienced developers made a responsive site that adjusts to any device. That means you can access BuddyGays from your mobile phone, tablet, or anything else with internet access. Imagine how much fun you can have if you own a smart TV and a webcam.
You don't have to see a desktop version of the site because registration is simple over the phone. Most members never use the desktop version, so you can almost count BuddyGays mobile site as an app.
BuddyGays Services
Compared to the best free dating apps for relationships, BuddyGays offers a lot of free features. You'll have to become a premium member if you want to feel the full potency of the site, though.
Free Features
you can register and create a profile as a free user
basic search function
playing "Cute or Not" game in the "Like Gallery"
viewing profiles of other men
sending 5 free messages every day
Paid Features
advanced search function with a lot of filters
Flirtcast - sending the same message to more than 1 user
Unlimited chat
Sending and receiving photos and videos in messages (do you remember a smart TV and a webcam we mentioned?)
Browsing photo albums of other members
Pricing Plans
Although BuddyGays has more free features than similar dating sites, free members are limited by 5 messages per day, so they can't "close" any deals. Luckily, the site membership is very affordable.
Plan 1 on BuddyGays is short and sweet; for just $0,99, you can spend 24 hours chatting, sending photos, and arranging dates. The majority of free members start with 1-day membership before upgrading to Plan 2 or 3, so their fun can last longer.
1-day membership - $0,99
With almost the same price as Plan 1, this 1-week membership might seem pointless, but it's genius if you think about it. Somebody who wants a hookup for a weekend can take it on Monday, get a hookup, and quit the site if they aren't horny anymore.
1-week membership - $7,00
Plan 3 is for men looking for that 1 special person or those who want to spend every night with somebody else. With so many young men on the site, it's not surprising that Plan 3 sells like crazy. Boys want to have fun too.
1 month membership - $28,80
3 months membership - $48,60
BuddyGays Benefits
The biggest benefit a dating site can have is an active community full of members who want to meet in person. BuddyGays community is exactly like that.
Milestones of BuddyGays
This is the most difficult part of this review because BuddyGays doesn't have any obvious cons. Maybe the members' pool could be a bit bigger, that's all.
BuddyGays Reviews by Users
This is what gay men say about BuddyGays:
Aaron Ward, 23
I'm still a Clean-Cut, but I wanted to meet some Bears. Thanks to the site, I've met men from all Tribes, not only Bears.
Thomas Fletcher, 31
All of my relationships started online, so when I heard about BuddyGays's reputation, I had to give it a try. Am I sorry? Hell no!
Juan Munoz, 27
When I first came to the USA, meeting men wasn't simple. Now I meet a new man whenever I want because of this dating site.
Experts Conclusion
BuddyGays is a well-developed and safe gay dating site. You can meet thousands of gays from the USA there and arrange hookups or start relationships.
FAQ
Is Chatting at BuddyGays Free?
Yes, but only to a point. Free members can send 5 messages per day.
Can I Connect the BuddyGays app to my Facebook Account?
No, but your profile on BuddyGays will tell enough about you.
Is the BuddyGays App Legit?
Yes, men are praising it as one of the best gay dating sites.
Fresh Dating Sites Reviews
This review presented BuddyGays to you. If you're a gay man looking for fun or love, your chances of finding it on that dating site are very high.
The site is full of men under 35 who want to meet new gay singles, it's easy to use, and it's very affordable.
Meet men who'll be more than buddies to you.